VOCE® V5+™ Tone Wheel Organ Module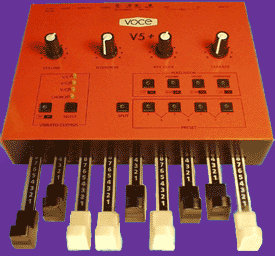 The VOCE V5+ Tone Wheel Organ Module is the latest in a series of highly accurate B-3 tone wheel organ simulators. The V5+ uses the latest generation of our Digital Tonewheel technology, the same technology as our highly acclaimed V5 Tone Wheel Organ Synthesizer.
The V5+ combines a handy set of MIDI Drawbars and the tone generator architecture of the V5 into one compact sound module, the same size as the original Voce MIDI Drawbar unit. Improvements realized in the V5+ over the V5 are in the depth and quality of its Chorus effect and new Percussion updates. The overall Percussion level is higher in the V5+, and the Normal selection for the Percussion volume decreases the drawbar level, the same way as on the original B-3. The result is a great sounding module in a compact package, at a great low price.
The V5+ features an intuitive, easy to use interface including all essential controls for playing a tone wheel organ. There are no complicated multifunction controls or complicated programming schemes. Instead, there are straightforward controls for Volume, Key Click, Overdrive, tone wheel Leakage, as well as Chorus, Vibrato, and Percussion settings. The V5+ also lets you save up to 7 programs consisting of drawbar settings, effects, and split settings, all making the V5+ the ultimate performance tone wheel organ module. Just attach it to your keyboard, hook it up to your sound system, and play. Imagine that!
V5+ Features
Tone generator and drawbars all-in-one small organ module
Updated Chorus and Percussion effects
7 user programmable presets
Controls for percussion, splits, chorus and vibrato.
Adjustable volume, key click, overdrive, and generator leakage levels
Multitimbral mode for up to 3 MIDI channels (2 manuals and pedals)
All drawbar and control changes can be recorded and played back by a MIDI sequencer
Very easy to set-up and play
It's orange
Other Resources
Specifications
Mechanical: 7.4" x 5.5" (18.80mm x 13.97mm)
Tone Generator Architecture: Full polyphony for two 61 note manuals and 25 pedals, 91 digital tone wheel oscillators
Preset: Seven user definable factory loaded presets
Effects: Vibrator/chorus, percussion, key click, tone wheel leakage and overdrive. All programmable.
Top Panel Controls: Rotary controls for: Volume, Overdrive, Key Click, Leakage,
Push-button controls for Percussion: on/off, volume soft/normal, decay fast/normal, and harmonic 3nd/2rd. Push-buttons for Split Mode and vibrato/chorus settings
Rear Panel Controls/Connectors: 12 VAC connector, Audio output 1/4" connector, Tuning Control, Multitimbral selector, MIDI out/thru selector, MIDI OUT/THRU connector, MIDI IN connector, and channel selector.
Power: 12 VAC @ 850 mA.
Specifications subject to change without notice.